A lovely thing arrived yesterday in the post – the FRSTEE I ordered for Helen from the folks at RIG London. Basically, it takes your twitter data, and turns it into your very own Christmas decoration – the number of … Continue reading →
Read more »
In Part 2 of this interview we recorded back in August, Microsoft TAG's then Marketing Director, Jeff Somers talked us through some inspiring case studies of brands who are successfully creating and deploying killer mobile campaigns enhanced and tracked with the Microsoft TAG format. When we recorded this, these were some of their latest campaigns [...]
Read more »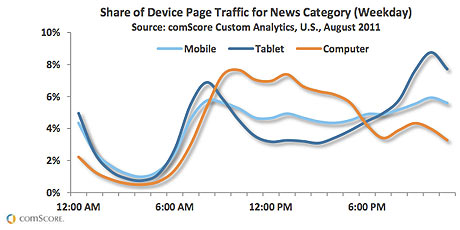 Tablets being used more during mornings and evenings | Technology | guardian.co.uk:
Mmmmmm, data.
Read more »
A human review of the Kindle Fire – Marco.org: This isn't good.
Read more »
Q79FWJUBHYPS It's been a hectic week this Global Entrepreneurship Week, with so many fantastic conferences, events and networking opportunities that have seen Ve Interactive principals speaking on panels, participating in a web chat, and picking up a prestigious award from … Continue reading →
Read more »
Social media activity should focus on delivering the objectives of the business. You have to ask yourself what those objectives are and have absolute clarity so that you can then measure impact from social media. For example – if one of the business objectives is to improve lead generation – then there would be a [...]
Read more »
Rumors are rampant that Starbucks locations in New York will no longer make their bathrooms available to the public. Officially, Starbucks is strenuously denying these rumors. Company sources say long lines that slow down employees who need to use t…
Read more »
Katachi Magazine for iPad:
There's some nifty thinking in here. 
Shades of PROJECT.
Love the photo wall and the unfolding images but I'm not sure who the magazine is for.
I'll have to live with it for a while.
Read more »
Much has been discussed with regards to achieving successful campaign integration. Our recent blog article highlights the importance of selecting the most appropriate promotional channels and the right agencies to represent your brand, working together to achieve your overall marketing plan. The integration of marketing channels and measurement techniques can have a cumulative effect upon your campaign results and consumer recall. In addition, the incredible number of platforms and emerging media available for brands, results in a selection crisis regarding the best channels to target consumers. To add a further dimension to this challenge, consumers also increasingly demand more personalised offersRead the Rest…
Read more »